Time to book your Christmas Party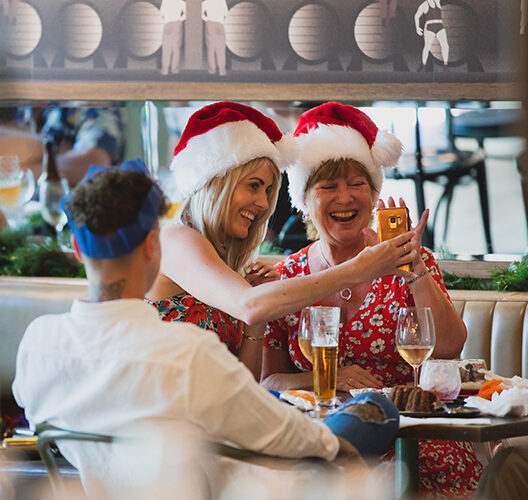 Time to book your Christmas Party
The company Christmas Party is usually the "big one" on the annual event calendar.  When organising your end of year festivities it generally requires a great deal of forward planning, especially when it comes to booking the venue.
Most people understand the common pressures of organising office Christmas functions involve rigid budgets, inflexible dates and a lot of people to please, often too with a mixture of dietary requirements that need to be considered so it's never too early to start organising.
It's a great idea to try and secure an estimate of numbers, possible dates and budgets early in the year so that you can go ahead and book the most appropriate venue – before it's too late.   And once your venue is booked you don't have to worry about any other event details until much later in the year!
Red Rock Venues has nine unique venues in Melbourne for the perfect backdrop for your work Christmas celebrations.
Our venues are in the Melbourne CBD, Southbank on the Yarra and one on Chapel Street, they offer both sit-down and stand-up functions with a variety of food and drink packages, find the right setting to suit your vibe – whether it's casual, stylish or a little bit hip!  10 or 400 people, menus can be tailored to suit different budgets and dietary requirements, all you'll need to worry about is the invite list!  Whether you are envisioning a traditional, corporate Christmas setting or a modern and unique experience, you can rest assured that Red Rock Venues has something suitable for you and your work besties.
Christmas is the time to celebrate, that's why we've created this list to hopefully help you narrow down some ideas. No matter what you choose to do this Christmas, Red Rock Venues would like to wish you a Merry Christmas & prosperous New Year ahead.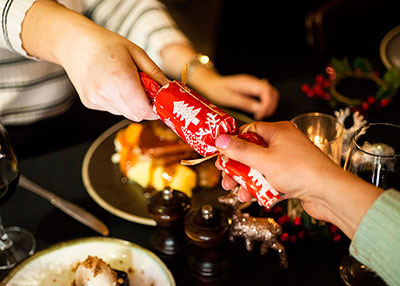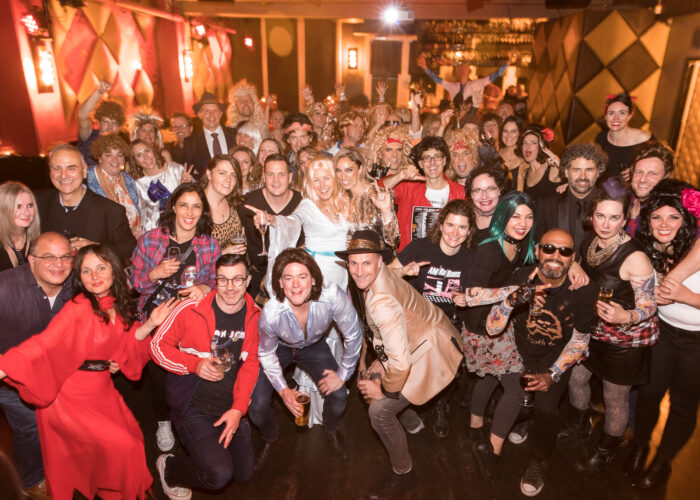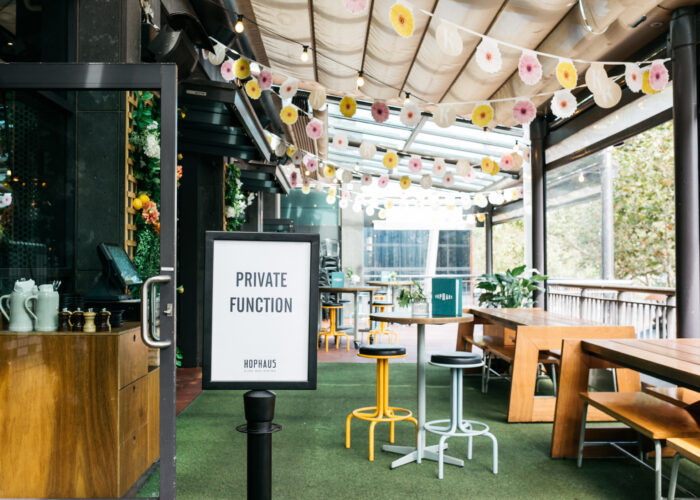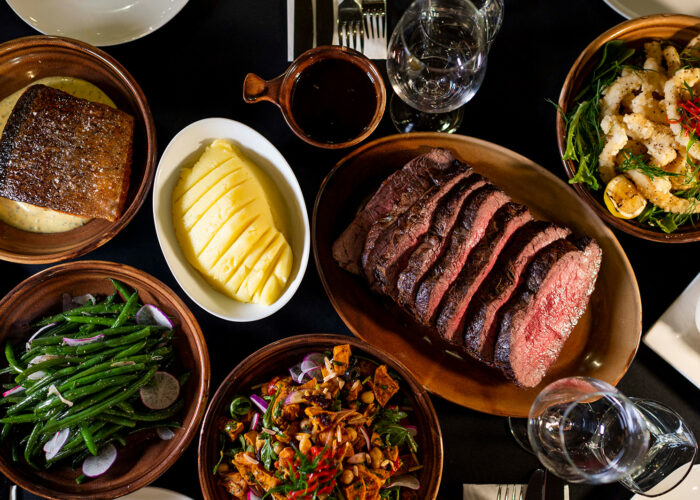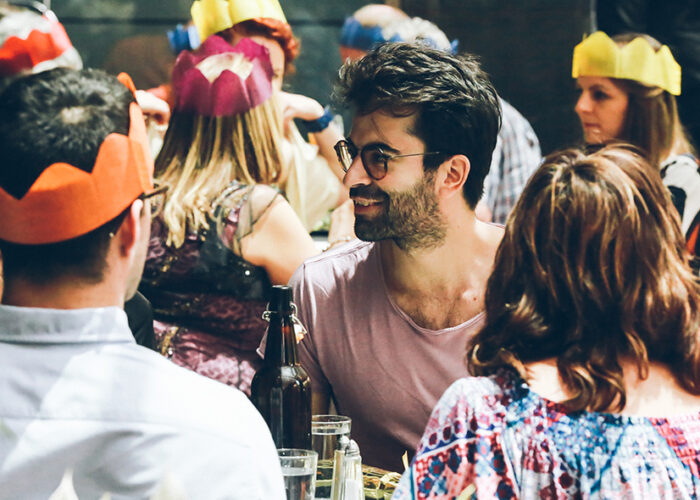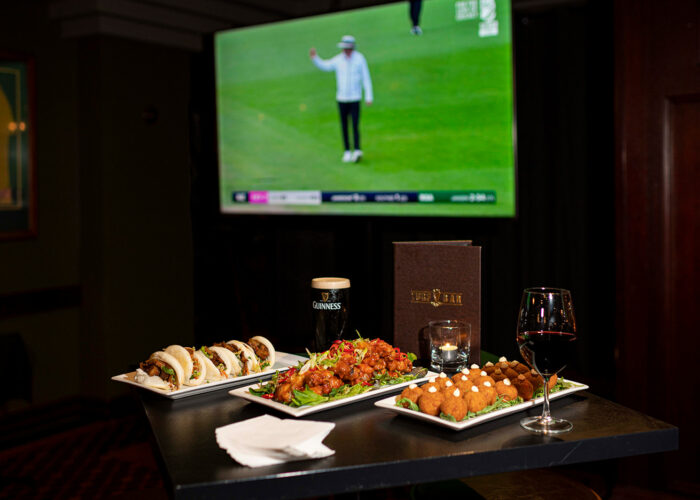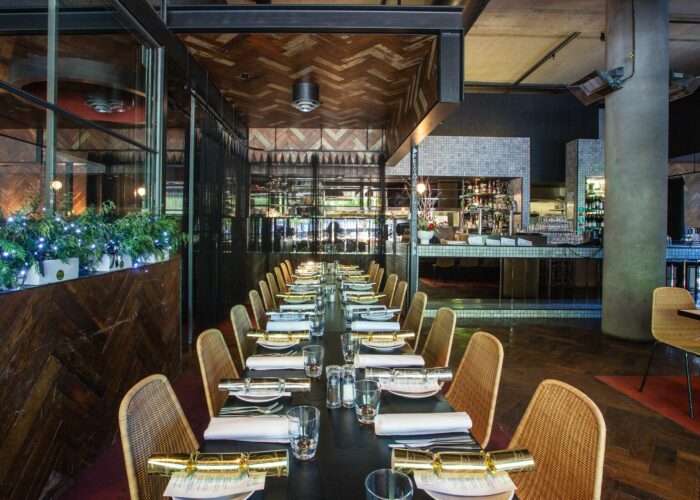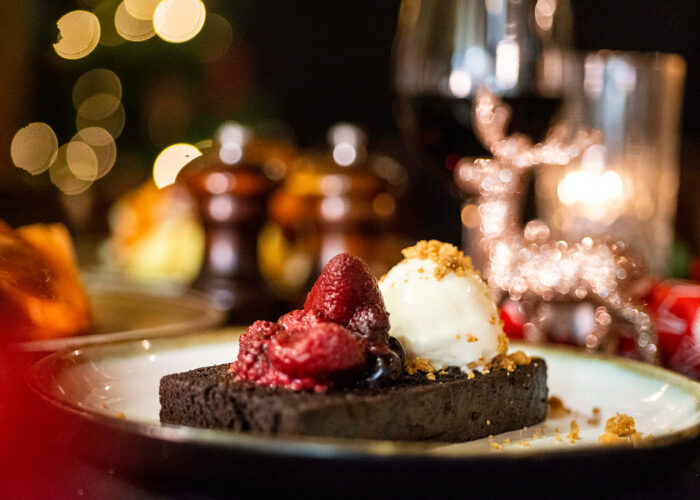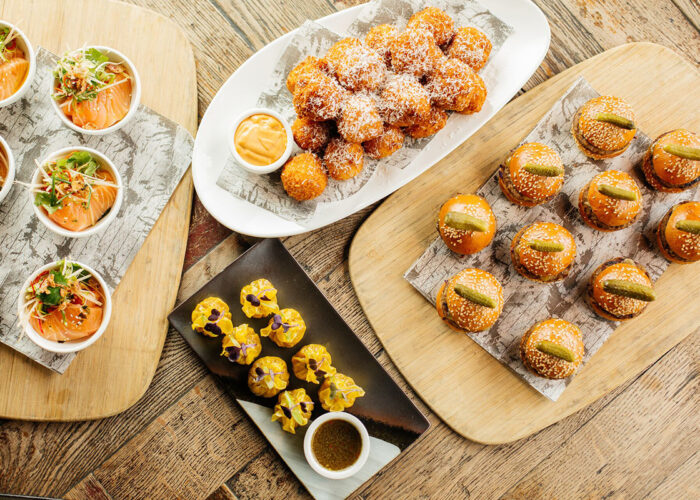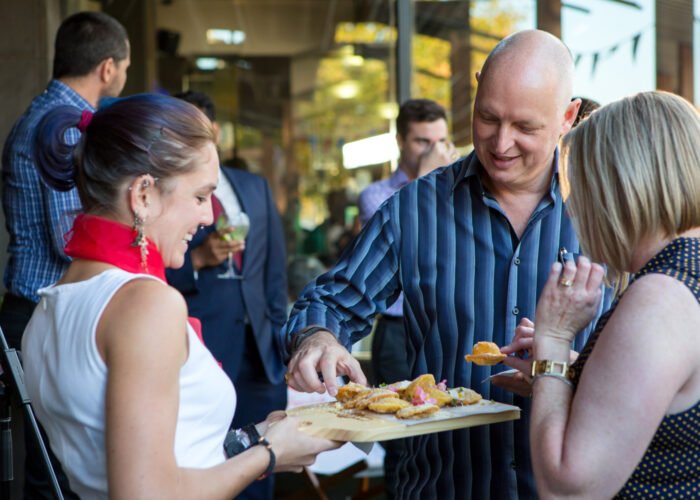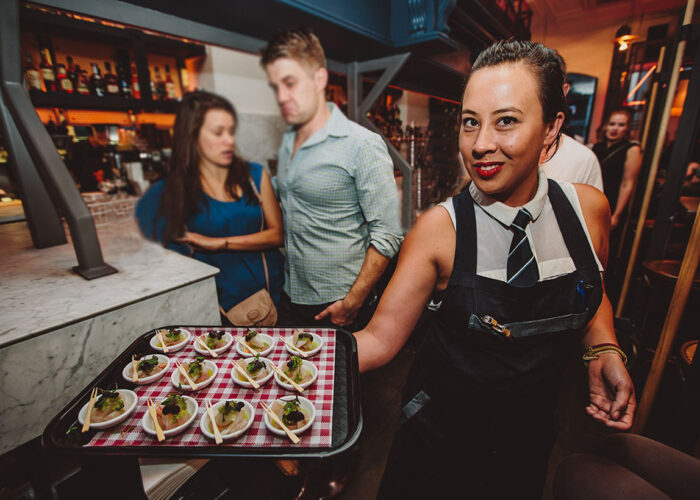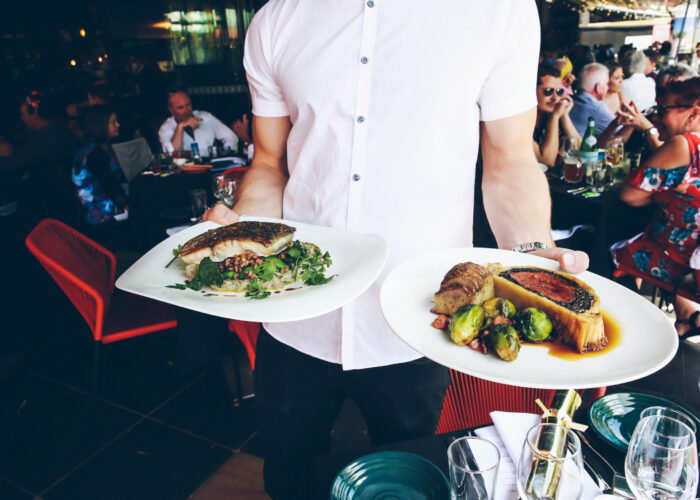 Sit Down Lunch or Dinner, Big & Small
Who doesn't love a big Christmas Feast for a Christmas celebration.  Our venues offer special Christmas menus for 2, 3 or 4 course meals as well as drink packages, some of our venues also offer buffet or banquet options.
With awesome city views and located by the river, it doesn't get much better than Ludlow Bar & Dining Room. With 14 flexible spaces, this Southbank venue is perfect for both small and larger sit down events.  Hophaus is another amazing venue to host sit down celebrations with a choice of areas like our Garden Terrace with sweeping views over the river and city, Dining Room Terrace or choose one of our inside areas.
For something a little more casual P.J.O'Brien's Side Bar or BearBrass offer sit down Christmas packages and both venues are conveniently located within Southgate on Southbank.  Continue your party at P.J.O'Brien's in the main bar with live music Wednesday to Sundays.  BearBrass has amazing views over the river and of the city, a lovely spot to relax and celebrate the end of the year.  Be a good sport this Christmas, Turf Bar is known for showing sport and serving up great pub food but did you know we also host fabulous functions.  Our Chef delivers delicious function food for lunch or dinner Christmas celebrations, depending on numbers choose from 5 different spaces or book the entire venue.
Perhaps a Thai Christmas feast at Cookie or Magic Mountain Saloon is more your thing.  With excellent Thai food, an exceptional drinks menu and service to make you smile.   Spoil yourself over a long Christmas lunch or dinner at Cookie then make your way to The Toff to finish the night off with a festive cocktail or two….or maybe the other way around!
Stand Up Cocktail Christmas Parties
Want something a little more relaxing, then most of our venues can host your company for a stand up cocktail style party.  With finger food and beverages flowing, we can tailor something to suit you.   Book an area or exclusive use is an option for some venues, during the day, in the afternoon or the evening, we're flexible.  You can view all our options at our nine Melbourne Red Rock Venues.
Temperance Hotel in South Yarra has it's own private lounge upstairs perfect for stand up cocktail parties with its own private bar and DJ facilities. For the more casual get togethers our booth bar and beer garden are great options.
We host many stand up Christmas cocktail parties and drinks at P.J.O'Brien's, BearBrass, Ludlow Bar & Hophaus all located along Southbank.  Turf Bar on Queen St CBD is also a popular spot for end of year parties with a variety of cocktail food menus to choose from and a variety of spaces.
Or spoil yourself this Christmas with a cocktail party or drinks at Cookie then make your way to The Toff to finish the night off with a festive cocktail or two….or maybe the other way around!  The Toff stage side is an amazing space for a party with a stage ready made for your entertainment.  Magic Mountain Saloon also offers stand up cocktail parties with upstairs perfect to book exclusively to enjoy delicious Thai canapes.  All located in CBD.
*All subject to availability
Entertainment & Decorations
Some of our venues already have live music and/or DJs that are pre-arranged on certain days of the week, however we are happy to discuss other entertainment options for all parties and help book if required.
For sit down Christmas events we usually provide Christmas Bon Bons on the tables and the venues have some Christmas decorations.   Just check with our Events Sales Managers when making enquiries.
*Any entertainment and decorations organised by clients must be approved by Red Rock Venues prior to event.
Sign up to Red Rock news.
Stay up to date with the latest Red Rock news.
"(Required)" indicates required fields